If you think direct mail is dead, I say you, my dear reader, may have your head in the "cloud".
Before you call me crazy, consider the following:
The Direct Marketing Association recently reported that direct mail's response rate surpasses that of all digital channels — by a long shot.
According to their research, direct mail achieves a 3.7% response rate with a house list, and a 1% response rate with a prospect list.
OK, sounds very respectable, right?
But it gets even better: Mobile, paid search, social media, email, and internet display combined (yes, combined) only achieve a .62% response rate. Put another way, print outperforms all digital channels combined by over 600%.
Print outperforms all digital channels combined by over 600%.
If that's not a repudiation of the "print is dead" mantra, I don't know what is. (By the way, when people say "print is dead," I take it to mean one of two things: they believe print no longer performs well in the face of digital media, or that print output is declining in the United States. We'll talk more about this in a moment.)
Update: Wondering what the Trump Administration's impact on print and non-print marketing might be? Read our analysis here including 3 trends which may drive more demand for print.
Let's get into a few more of the details to understand how these response rates break down.
Direct Mail Response Rate Highlights
In comparison to direct mail, how did each of the digital channels stack up? Here are the average response rates reported in the survey by channel:
Mobile: 0.2%
Email: 0.1% (for a prospect list); 0.1% (for house list)
Social Media: 0.1%
Paid Search: 0.1%
Display Advertising: 0.02%
You like charts (right?), so here's a handy bar graph illustrating each channel's response rate: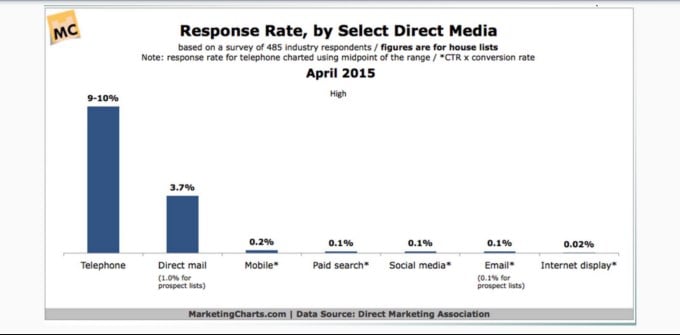 Which offline channel has the highest response rate? Did you catch that in the chart? It's the telephone. Yep. It had the highest response rate at 9-10%. So pick up that phone and start making calls.
How does direct mail's cost-per-acquisition compare to other channels? Cost-per-acquisition for direct mail is very competitive. Direct mail stands at $19, which fares favorably with mobile and social media (both at $16-18), paid search ($21-30), internet display ($41-50) and even email ($11-15).
Are there certain direct mail formats that do better than others? Yes. Formats play a role. According to the study, oversized envelopes have the best response rate at 5.0%, followed by postcards at 4.25%, dimensional at 4.0%, catalogs at 3.9%, and letter-sized envelopes at 3.5%.
In addition to direct mail, how many channels are marketers using? Marketers continue to embrace multi-channel marketing, with 44% of the respondents using three or more channels for their marketing efforts. In these instances, the most popular channels tend were direct mail, email, and social media.
So What Are the Opportunities With Direct Mail?
As with all data, we can draw a variety of (often conflicting) conclusions.
But follow me for a moment: The study also asked, why, if direct mail performs so well, do marketers object to using it?
They found that marketers say their biggest problems with direct mail are: its cost, the effort to deploy it, and difficulty tracking results.
Let's break each of those objections apart:
Cost should only be an issue if the overall marketing campaign is not ROI positive. If direct mail creates leads, and those leads turn into opportunities — and those opportunities turn into enough sales to exceed your investment in the campaign, what's the problem? You may not have a handle on your metrics, or maybe you have a math problem — but don't blame it on the medium.
If deploying direct mail is difficult, keep in mind that there's somewhere around 25,000 printers in the United States (not to mention agencies and other types of service bureaus). If you can't find one that meets your needs, give us a shout and we'll connect with you at least half a dozen. There's plenty of great talent and hardworking people who will take the burden of direct mail's complexity upon themselves to free you up to drive revenue.
If you're having trouble tracking the results of your direct mail campaign, then perhaps you're unaware of the variety of solutions that are available to make print measurable. The good news is multi-channel marketing automation software (like MindFire's that includes Personalized URLs for Direct Mail) can help. If you're not using a platform to track your mail and generate more leads, you're most likely leaving money on the table.
"But wait a moment," you say to me, still unconvinced, "doesn't the study also find that fewer companies report using direct mail? Doesn't that suggest it's not working for others, and thus companies use it less?"
Yes, my friend, you're right. The study does find this to be true. We've all seen the print forecasts and there's no denying that there's a diminished output across the United States.
But I submit to you that within this challenge lies your opportunity.
Why? What if it's also true that because there is less competition in the mailbox for your prospects' attention, your message may get more easily in front of your prospect? Combine this thought with something else the DMA has reported: direct mail response rates over the past 2 years are rising.
So, not only are you competing against fewer people for your prospects' attention, but response rates are also moving in your favor — meaning that you're more likely to generate leads.
In light of these facts, the only sensible thing for us to do is test, test, test. Get out there and see if this might work for you.
You might be surprised.