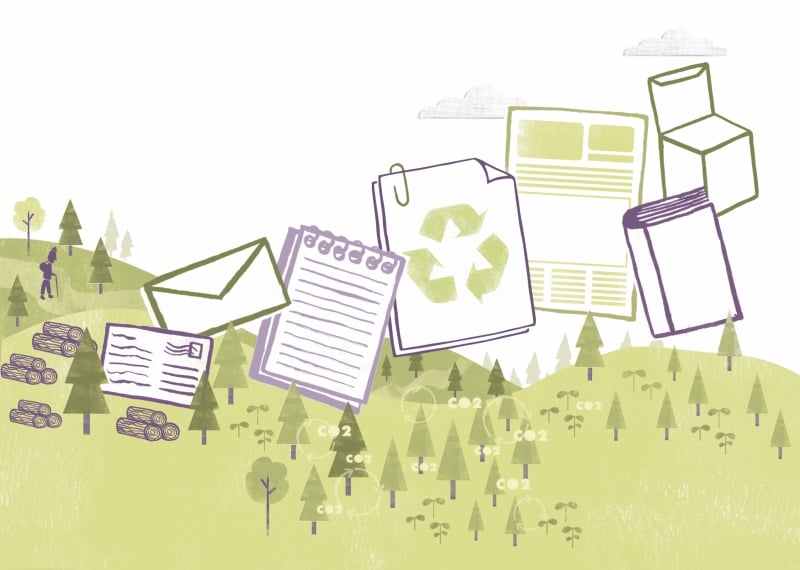 For the past 58 years, the third week of October has been designated as National Forest Products Week. Forest products are critical to our day-to-day activities. From wood and lumber to paper, tissue, and packaging, forest products provide the materials essential for our daily lives. Forest products help us build, learn, communicate, inform, clean, protect, and transport. We often overlook the benefits these products have on our activities every day and their unique sustainable features.
Forest products have inherent sustainable features
Not only are forest products part of our daily life and culture, they are also sourced from a truly sustainable resources – trees! In North America, paper is recycled more than any other commodity which not only extends the wood fiber supply, but also helps reduce greenhouse gas emissions, and saves landfill space. These features, combined with the North American paper industry's advocacy of responsible forestry practices, certification, the use of renewable biomass, and advances in efficient papermaking technology, make paper one of the most sustainable products we use.
Contrary to popular belief, forest products like paper support sustainable forest management. By providing a reliable market for responsibly grown fiber, the industry encourages landowners to manage their forest land instead of selling it for development or other non-forest uses. The net forest area in the U.S. has been stable since the early 1900s and has increased from 754 to 766 million acres between 2005 and 2015.
The Economic Impact of Forest Products
The forest products industry is central to U.S. manufacturing and ranks among the top 10 manufacturing employers in 45 out of 50 states. The sector makes up 4% of the U.S. manufacturing GDP and employs an estimated 950,000 people directly and supports another 2.4 million jobs. In 2017, the value of shipments for the wood and paper manufacturing industry in the U.S. was over $200 billion.1
Join Two Sides to help promote the positive sustainability story of print on paper and access fact-based information to make well-informed decisions. Celebrate the value of our forests by following #ForestProductsWeek and #PaperFacts.