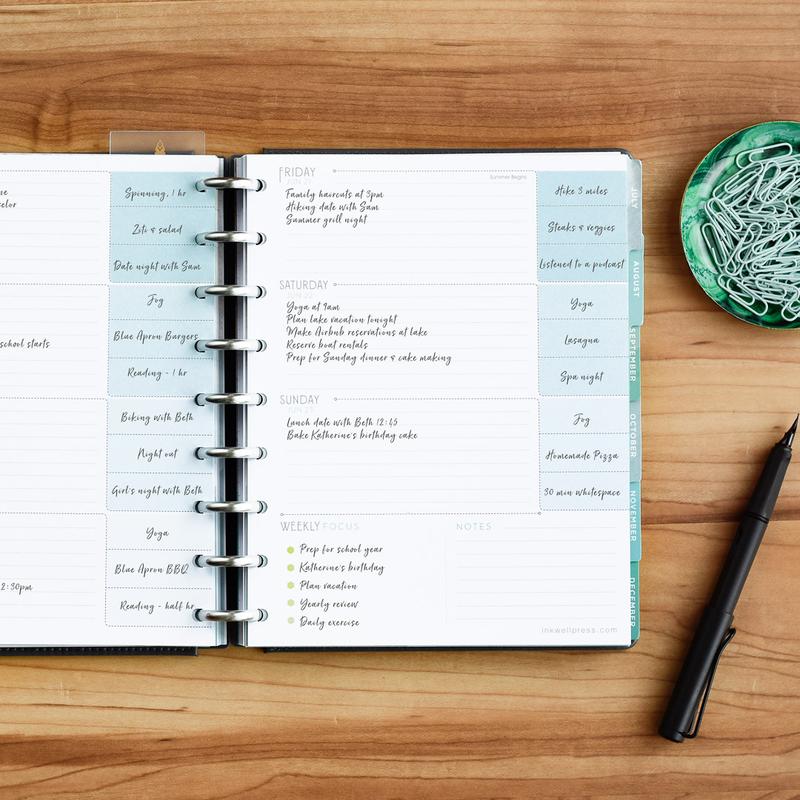 What Does Your Planner Look Like?
Chances are you use a software platform for staying organized, whether that be for personal reasons or designated through your work. It's fast too, and easily transfers across devices. But here at L+L, although we're certainly partial to it, we prefer paper. There are plenty of reasons to keep a paper calendar on your wall or planner in your bag, but did you know that the brain processes and retains information better when you write it down rather than type it? It summarizes and comprehends things that you write down much more effectively, and writing rather than typing has been also shown to boost creativity, literacy, and critical thinking.
In addition, writing allows for more dynamic notes and reminders. Need lots of underlines and colors to remind you about your big day? Not happy with how big or small the text is? Can't remember what you needed to do because auto correct changed your note? No problem! And yes, some of this is seemingly trivial, but in the commotion of doing things as quickly as possible we forget that faster is not only better. Ultimately it's up to you to decide what works best for your specific purposes, but give a paper planner another consideration. There's a reason paper has been around for so long, and there are even more below. We love paper, and we think you'll love it too!
The below post originally appeared on treehugger.com as written by Katherine Martinko
The organisation of my personal life is one area in which technology has failed me. I've gone the archaic route of keeping track of everything on paper, and here's why it works so well.
December is "buy a new planner" month for me. It's been five years since I gave up trying to organise my life with technology.
My cell phone calendar was a waste of time and energy; I hated trying to enter simple descriptions, dates, and times, while being asked a bunch of annoying questions like "Do you need a reminder?" and "What kind of alarm should sound and how often?" I also disliked having to abbreviate my thoughts.
I tried iCal on my Mac, but that was inconvenient when I didn't have my laptop around, or if I had to open it up just to check a single detail.
The "random bits of paper everywhere" method was also a failure and needs no further explanation. I realised something had to change because I was stressed out and disorganized.
That's when I splurged and bought my first-ever Moleskine planner. It was a beautiful, old-fashioned paper notebook-style planner, with a weekly layout on one side and a lined page for notes on the other. I chose bright red, since it would be easy to find in my bag and around the house.
Soon it was full of the crucial information that had previously been scattered throughout my house. For the first time in months, I felt relaxed and confident that I could manage the many demands of my life at that time, which included juggling a newborn baby, semi-single parenthood (my partner was away for work during the week), and my last year of university.
Every December, I look forward to the special ritual of opening up my brand new planner — always red — and filling out the birthdays, holidays, and events that will take place the next year. There are, however, lots of reasons why I love my planner beyond being organised:
1. There's no battery to recharge and pens are available everywhere. It's lightweight and versatile, with pages for my kids to scribble on if they're bored, rather than handing over my phone for games.
2. I feel less rude pulling out my planner to scribble a note in the middle of a conversation than pulling out my phone. For all my friend might know, I could be texting someone else, and nothing infuriates me more.
3. There are lots of cool companies to support. Although I've usually bought Moleskine, which is durable and has a lovely feel, I've recently learned some less-than-savoury things about their environmental record. This time I'm going to look for something that's greener and produced closer to home.
4. A paper planner is a conversation starter. People are always surprised to see mine appear and most say they want one, too. (I think everyone's fed up with the impracticality of phone calendars.)
5. My collection of past planners is an instant collection of diaries. Without any extra effort, I have a fairly detailed record of everything I've done for the past five years.
If you're looking for an alternative way to stay organised in 2015, give a good old paper planner a try. You may be pleasantly surprised at how effective it is.